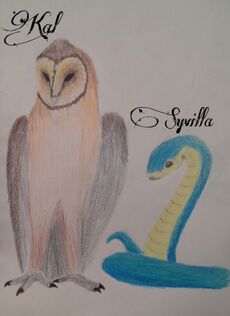 Kal is a secondary character in the fanfiction "Legend of the Guafdians Owls of Ga'Hoole: The Resistance" and Syvilla is a minor character.
Kal ans Syvilla were both born at the tree. Kal became a guardian and Syvilla became the nest maid snake for
Borrus
and
Strinx
after she suffered a brutal blow to the head causing her to become blind. Kal is also mates with
Rennee.
No word is heard from Kal and Syvilla goes missing once the Purge attacked the tree.